Michigan income tax payers can now support The Michigan WWII Legacy Memorial via the Michigan Voluntary Contribution Schedule, form 4642, thanks to Public Acts 256 2018 and 257 2018.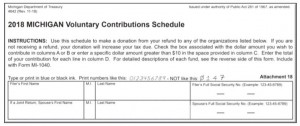 Click here or on the image to the right to download the Michigan Voluntary Contribution Schedule which is filed along with the standard MI 1040 income tax return. Please consult your tax advisor for details. Click here for more information.
We thank Michigan State Senators Steve Bieda and Marty Knollenberg for sponsoring this legislation.
Pictured above behind Governor Rick Snyder are President Debi Hollis, Senator Steve Bieda, Vice President Russell Levine, Treasurer John Maten, Board Member Judy Maten, Architect Michael Gordon, WWII Veteran Art Fishman, Board Member Michael Cameron, General Contractor Michal Hall.